If you are not a U.S. citizen, you face disastrous consequences for criminal convictions and immigration status.  A criminal conviction may prolong the green card process. It may also foreclose your ability to become a legal resident or cause your removal from the country. Only an experienced immigration attorney can advise you on the potential consequences of criminal convictions and immigration.
Arrested While On a Visa:
When arrested for a crime, your arrest information enters the FBI's criminal database. Law enforcement agencies around the world will have access to this information. This includes the Tulsa Police Department, Oklahoma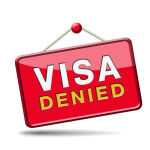 Court Services, and the federal United States Department of Homeland Security ('DHS'). If DHS learns of your arrest, they may attempt to find you and detain you. Usually Immigration and Customs Enforcement ('ICE'), a division of DHS, investigates aliens accused of committing crimes in the United States.
If you are released on personal recognizance in your criminal case you're not out of the woods.  ICE may come to your home and place of work to hunt you down. If the Tulsa County Jail holds you pending trial, ICE may seek to transfer you to a federal immigration detention facility.
Detained by ICE:
When you are held by ICE, your Oklahoma state criminal case is stayed pending your release from ICE. ICE will not transfer you to Oklahoma court so that you can appear for hearings, so the Oklahoma case will wait for you to be released before proceeding. ICE does not detain every immigrant upon arrest. Often times, ICE awaits the outcome of the criminal case. If the immigrant pleads guilty or receives a conviction, especially if the charges are for violent offenses, ICE begins the removal process.
Detained aliens do not receive the same protections as criminal defendants. Because the immigration removal process is a civil proceeding, it is not accompanied by the constitutional protections surrounding criminal prosecutions. You do have the right to an attorney, but the government will not appoint you with a free one if you cannot afford one. It will instead be your responsibility to find your own attorney, though DHS will provide you with a list of free or cheap immigration attorneys in the Oklahoma area. If English is not your native language, you will also have the right to an interpreter. If you wish to call the consulate for your country, you may do so. Finally, you have the right to examine the evidence against you, present your own evidence, and cross-examine any government witnesses.
Possible Deportation Without a Hearing:
Depending on your immigration status, you may or may not receive a hearing before an immigration judge. If you are not eligible for a hearing, an enforcement officer will review your case and make a decision on whether to have you deported. If you are eligible for a hearing, the immigration judge will read your charges. Your charge will be that you violated conditions of your visa by committing a crime. You must admit or deny the charge. If you are under arrest but receive no conviction, then the government must prove your commission of the crime.  Or if you've been convicted, the government can simply admit proof of your conviction, such as a jury verdict order from an Oklahoma state court.
If the judge thereafter finds you committed the charge, you may be eligible for removal. However, the judge will first decide whether you meet any of the potential avenues for protection from removal. Examples of some of the forms of protection include a long history of law-abiding residency and evidence of good moral character.
Free Consultation ; Call Our Criminal Convictions and Immigration Attorneys
If you receive charges of a crime, you need to seek the counsel of a Tulsa immigration attorney who understands the complications of criminal convictions and immigration removal efforts. In addition, a skilled immigration attorney can advise your criminal defense attorney on the possible consequences you face as a result of a conviction.