Under Oklahoma workers compensation law, certain work related injury claims are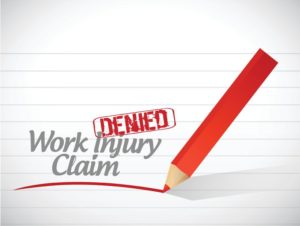 excluded.  If you or a loved one is wondering if you qualify for workers compensation benefits, contact our attorneys for a free consultation. We can help you obtain the compensation you deserve. You deserve medical treatment and help with denied workers compensation injuries in Oklahoma. Don't go it alone and don't take no for an answer. Denied workers compensation injuries are common in Oklahoma
Intentional Injuries at Work:
An intentional workers' compensation injury occurs when an employee intentionally injures himself/herself while during the scope of employment. If the employee's willful misconduct causes his/her injury, a workers' compensation benefit will not be awarded. An employer will use the intentional injury defense if there is enough evidence warranting that the employee's willful misconduct led to his/her injury.
Example: Joseph and Carlos were building a balcony on the first story of an apartment complex. Joseph contemplated jumping off the balcony to the ground floor because he tired of  going up and down the stairs to grab tools. His signed company safety policy cautiously advised against such behavior. Nevertheless, Joseph chose to jump off the balcony. He injured his arm in doing so and filed a workers' compensation claim. The evidence showed that Joseph's willful misconduct caused the injury to occur. Thus he received a denial on his workers' compensation benefit.
Claiming a fraudulent injury can also result in criminal and civil liability.  Oklahoma Attorney General E. Scott Pruitt is cracking down on fraudulent workers' compensation claims.
Voluntary Intoxication in Workers' Compensation:
Voluntary intoxication preceding a work injury may also exclude Oklahoma workers' compensation benefits. This intoxication occurs when an employee ingest illegal drugs or alcohol, or abuses a prescription medication before or during work. If the use of the illegal drug/alcohol is the source of an employee's injury, workers' compensation benefits will not be provided so contact a workers compensation lawyers in Tulsa.
Example: Jared consumed 4 beers during his 30-minute lunch break. The alcohol volume of each beer was 7.2%. When Jared returned to work, he was asked to haul 12 boxes down 3 flights of stairs. Jared did not disclose that he recently consumed alcohol to his supervisor. Instead, he decided to stack two boxes on top of each other to carry down the stairs. Due to intoxication, Jared fell down the stairs breaking his right leg. Jared attempts to claim workers' compensation coverage, but is denied coverage once evidence surfaces that he consumed alcohol during his lunch break which resulted in the underlying cause of his injury.
Failure to Use Safety Device:
Employees must use safety devices when operating equipment at work. If an employee intentionally decides to not use a safety device, and doing so would have prevented the injury, he/she may likely be barred from obtaining workers' compensation insurance. Momentarily forgetfulness, inattention, or bad judgment usually does not bar claims. You will need an experienced attorney to advocate on your behalf to obtain an award in the event of improper use of a safety device.
Example: Gina routinely saws wood at the local home good store. Prior to sawing wood, employees must wear goggles to prevent fragments from flying into their eyes. Gina routinely refuses to wear the goggles and ends up with an eye injury.  Proper wearing of the goggles would have prevented injury.  Oklahoma State law will likely bar her from obtaining Workers' Compensation insurance.
Contact Our Tulsa Workers' Compensation Attorney:
We invite you to contact our workers' compensation attorney for legal advice and guidance. Our Tulsa Work Injury attorney can provide you with legal advice to determine if your work related injury or disease is eligible for workers' compensation insurance or if it is an excluded Oklahoma workers' compensation injuries. Contact us for a consultation.