Getting a divorce and filing for bankruptcy are two very important life decisions.  They can be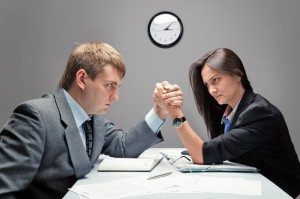 confusing without the assistance of a Tulsa divorce and bankruptcy attorney. If you are contemplating bankruptcy and you have a pending divorce, or if you have an active bankruptcy proceeding and are contemplating divorce, you need to be aware of all consequences that may result if you file for bankruptcy or divorce. The consequences may significantly differ depending on whether you and your spouse choose to file for bankruptcy prior to finalizing a divorce, or divorcing first and filing for bankruptcy as single individuals following divorce.
Filing for Oklahoma Bankruptcy First:
If you and your spouse choose to file for bankruptcy before filing for divorce, you will be able to eliminate your debt in a more economical way. For example, the filing fees for a joint and individual bankruptcy filing are the same, so filing jointly with your spouse before divorce will prevent each of you from having to pay the same fee on your own if you file for bankruptcy after your divorce.
Further, filing for bankruptcy prior to divorce will allow both spouses to handle their debt collectively.  If spouses wish to resolve their bankruptcy matter as quickly as possible so that they can then finalize their divorce, Chapter 7 bankruptcy may be the better option if they qualify, as Chapter 7 bankruptcy is completed much sooner than Chapter 13 bankruptcy. As such, spouses choosing to file for bankruptcy first may have to wait four or more years before their bankruptcy proceeding completes and all debt discharges if they do not qualify for Chapter 7 bankruptcy.
Filing for Divorce First:
Spouses wishing to resolve their marital disputes prior to Oklahoma divorce may find that it is in both spouses' best interests to handle their debt-related issues individually after finalizing their divorce. By filing for divorce first, spouses will know the actual amount of debt they face.  They will also know what assets each of them has after dividing their property. It may turn out that some property can sell to satisfy debt without the need to file for bankruptcy. Otherwise, each spouse will have a better understanding of his or her own debt when filing bankruptcy following divorce.
If two spouses feel separation is more important than filing debt jointly, filing for divorce first is better. There are both benefits and drawbacks to approaching bankruptcy and divorce from opposite ends. Regardless of whether spouses file for bankruptcy or divorce first, the potential overlap could create a complex and stressful situation.
Working With a Divorce and Bankruptcy Attorney:
Whether you choose to file for bankruptcy first or divorce first, you must consider how your attorney's role change. If you choose to jointly file for bankruptcy prior to divorce, then one attorney may represent both of you. However, if you divorce first, and then file for bankruptcy, or file for divorce before your bankruptcy proceeding is complete, there may be a conflict of interest.  Thus, one attorney will not be able to represent both of you.
If you are contemplating both divorce and bankruptcy, it is a good idea to seek the advice of an attorney. An attorney dealing with divorce and bankruptcy matters has an understanding of both processes and their effects on each other. Given that conflict generally occurs between two divorcing spouses, each spouse should meet with his or her own attorney.  This ensures protection of  both spouses' rights and interests.
Contact a Tulsa Divorce and Bankruptcy Attorney Today
If you are facing a divorce and may need to file a bankruptcy call our attorneys today. Sometimes filing them both is the better solution depending on your particular case. Call our Tulsa divorce and bankruptcy attorney today for a free consultation.