Each year, millions of Americans find relief from oppressive debt through Chapter 7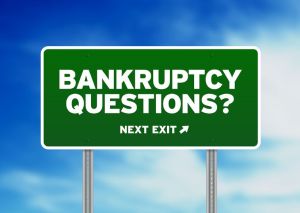 bankruptcy.  If you are struggling to break free from debt, experiencing harassment from creditors, or facing the loss of your home, Chapter 7 bankruptcy may provide you with relief from debt and the ability to achieve a bright financial future. Call our Oklahoma Bankruptcy Attorneys for a free consultation.
The following is an overview of Chapter 7 bankruptcy in Oklahoma.  This guide is intended to provide you with some basic knowledge as to the bankruptcy process and what it offers.  Your bankruptcy will be able to answer all your questions concerning Chapter 7 and assess whether this form of bankruptcy is right for you.
Oklahoma Chapter 7 Basics:
Chapter 7 bankruptcy is the most common type of bankruptcy.  It offers individuals and some businesses a means of eradicating all or most of their unsecured debt.  Unsecured debt includes debts such as medical bills and credit cards.
Chapter 7 bankruptcy is often referred to as liquidation bankruptcy because it requires the sale of your non-exempt assets by the bankruptcy trustee in order to pay back creditors.  While the thought of losing possessions initially deters some filers, it is important to understand that many assets are exempt.  For instance, in Oklahoma, bankruptcy filers can exempt the entire value of their primary residence and up to $7,500 of equity in your car, truck, SUV, or van.  Our experienced Chapter 7 Oklahoma bankruptcy attorneys will review your assets and fully advise you as to what is exempt.
Qualifying for Chapter 7 Bankruptcy:
Both individuals and businesses can qualify for Chapter 7 bankruptcy.  To qualify, all individuals or couples must pass the "means test."  The means test does not assess your debts or insolvency; rather, it looks to your income to determine whether it is low enough to meet the Chapter 7 threshold.  Your income must fall below the median income in Oklahoma for a similar sized family to qualify for Chapter 7.  However, even if your income exceeds that level, you may still be able to qualify if you have substantial debt obligations.
All would be Chapter 7 filers must also complete a credit counseling course within six months prior to filing for bankruptcy.  You may complete the course in person, online, or on the phone.
The Chapter 7 Bankruptcy Process in Oklahoma:
Completing a successful Chapter 7 bankruptcy begins with the filing of a petition.  Your Chapter 7 petition will be drafted by a knowledgeable bankruptcy attorney.  The petition must include details as to your debts, expenses, assets, income, and any monetary transfers made throughout the two years prior to filing.  Your petition must be completed with accuracy and thoroughness.
Once the petition files, an automatic stay issues and stops all collection calls and attempts to collect debts.  A bankruptcy trustee gathers and sells your non-exempt assets and distributes the proceeds to creditors.  Your attorney will ensure  protection of all exempt assets.  At the completion of the Chapter 7 process, you will receive a discharge of all or most of your debts.
Tulsa County Oklahoma Bankruptcy Attorneys:
If you are struggling with debt and considering filing for Chapter 7 bankruptcy, the Oklahoma Bankruptcy Attorneys can help.  Our experienced bankruptcy attorneys are here to guide you through the bankruptcy process.  We will evaluate your asset/debt portfolio to make an educated assessment as to whether bankruptcy will offer the relief you seek.  Call the bankruptcy attorneys at Tulsa County Lawyers Group today to schedule your free consultation.